Went to a private day a mate orgainsed at Meremere and dragged KPR along aswell. The track was quite cold and un-prepped but we had a ball - no really fast times but we both got in more than 30 runs due to the low number of cars. We even swapped cars for a bit which was mean. Quite awesome being in the stands and seeing your own car thrashed.
http://www.youtube.com/watch?v=7g8TLZbvGQk
In the end I started launching in second and full boost which did seem faster but after about 1/4 track where the little prep ran out I lost traction. Ended up just doing huge burnouts and generally thrashing the shit out of the car.
At one point we were doing continuous runs - coming down the return lane and just spinning around and lining back up again. Great fun!
Had two problems pop up during the day. The first was running so hard and not having much fuel which in turn caused what little was in the tank to get quite hot which in turn caused a mean missfire under load. More fuel in the tank fixed that problem.
The second was a bit more serious. Due to the heat the clutch litterally started to melt and at one point I had smoke coming out of the clutch fork hole. As power was coming on in 3rd the clutch was starting to get a bit soft so called it a day at 36runs!
Pulled the clutch out a month or so later... the below damage I blame completely on KPR...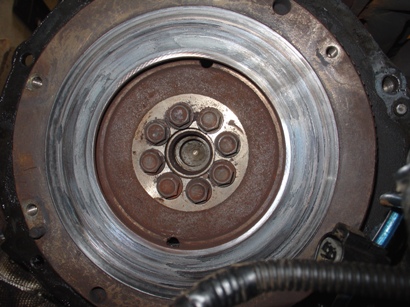 Flywheel - fuct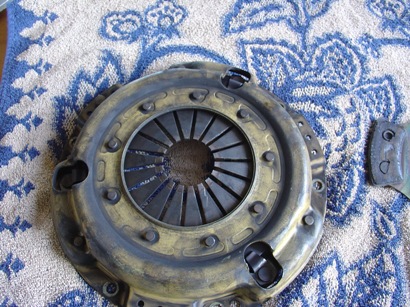 Top of pressure plate, paint burnt off, the smell was terrible...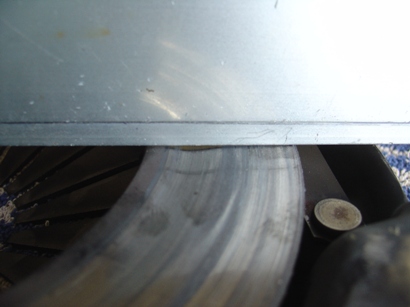 Friction surface - fuct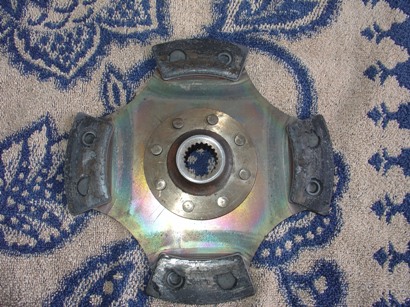 Check out the heat markings and yes it does have a bow in it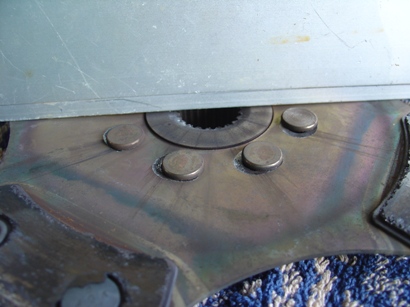 The rivets were letting go